---
About This File
Stalhrim Village
Author: DarkRider
Version: 1.1
Release Date: 24.December.2010
Updated: 28.December.2010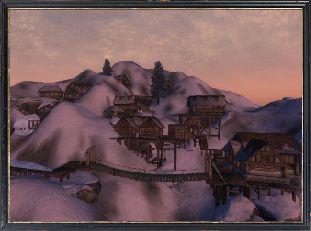 Description:
Stalhrim Village was created as part of the 12 Mods of Christmas on Oblivion Real Estate for 2010. This mod adds a rustic Nordic village nestled high in the mountains between Cyrodiil and Skyrim with an epic view of the Nordic homeland beyond. There is a player home, filled with custom touches and player safe storage, free for the claiming. There is also a mini quest to claim a few treasury goodies to line your pockets, but you're going to have to use your head. Be careful, the creatures that guard over the treasure will kill you on sight so try not to be seen.
Gameplay:
In order to play this mod you MUST disable the default region borders for Oblivion. Do this by going to your Games folder, open the Oblivion.ini, skim the [General] list for bBorderRegionsEnabled=1 change this to bBorderRegionsEnabled=0 and save to disable the borders.
Once your border regions are disabled, travel north above the city of Bruma (see the location image included in this download for the map location). Once there you will find Wulfrung's Watch, the key is stashed nearby so root it out and make yourself at home. To initiate the treasure hunting quest, explore the containers in the upstairs closet of Wulfrung's Watch.
Features:
Incredible Nordic Setting

Open Stable

Player Home

Spacious Interiors

Adjustable Interior Lighting

Custom Tapestries, Paintings, and Rugs

Treasure Hunting Quest

And More...

Credits:
Hanaisse: Guild Interiors, NPC Creation
WindmillTilter: Models, NPC Creation
Khettienna: AI Enhancement
and
Yevic: Beta Testing
Resources:
Xiamara: Couches and Chairs
Meo: Modular Fireplace (Bruma), Settlement Resource, Celtic Tombstones
DaMage: Water Mesh
Stroti: New Statues, rustic farm, filled desk, Moon Shield
Nicoroshi: Wyrmfang
Helborne: Filled Bookshelves, Basic Shelves
Omegacron: Static Scroll Sets
Alasdair: Skyrim Gubbins
About All Natural Support:
Modder Khettienna created the All Natural Support package for Stalhrim Village, only download and install if you plan on using Stalhrim Village with All Natural, otherwise you only need the StalhrimVillage.7z file. Please read the included documentation for installation instructions.
---