An Introduction to Worldbuilding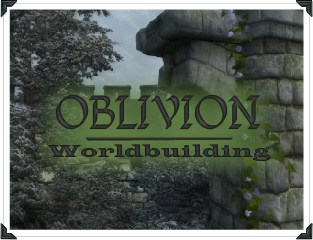 Introduction:
Welcome to Oblivion Worldbuilding, Student!
So, you have begun your journey into the wonderful world of modding for The Elder Scrolls IV: Oblivion and now you feel ready to create your own worldspace! Congratulations! Worldbuilding is one of the most rewarding aspects of modding as it allows you to create new places to visit that are separate from the vanilla world offered in the game. This is a great place to let your imagination run free in your mod and throughout this course you will gain the tools you need to create your vision!

These classes build upon the lessons learned in the Construction Set Basics course and will approach the broad subject of worldbuilding from the assumption that you have either completed the CS Basics course, or you have achieved through private study, a working understanding of how the Construction Set works. If you do not have that foundation, it is advised that you go back and complete the
CS Basics
course before you attempt the material in this one. Beginners will find the instruction in this course confusing and shorthanded without that working knowledge to refer to so save yourself the frustration and start back a step.

By now you will certainly have lots of grand ideas about all the things you'd like to create, and with some careful study of the tutorials available here on TESA you will soon achieve those goals. However, jot them down and set them aside for now! The first thing you want to do is spend some time studying the tutorials and learning how to use these techniques, rather than stumbling through your mod idea one tutorial at a time. If you start with your ideas first the margin for error is greater and you may find yourself having to fix and even redo things later when you learn proper skills. So for now, let's focus on learning the some Worldbuilding techniques!


Smarty Says:
Hi! Remember me?! I'm Smarty, I know everything there is to know about Worldbuilding for the Elder Scrolls and I will follow you along your course of study with useful tips and reminders for you, so keep your eyes open for me!
What You Need:
Terms to Know:
Worldspace-
A collection of cells apart from the Tamriel worldspace; quite literally, a separate world.
Landscaping-
The act of sculpting the landscape model using the landscaping tool.
Cell-
One interior or exterior unit.
Region-
One group of cells among many that are identified as a collective "regional" name.
Parent-
A reference that other references are dependent on for defining information.
Child-
A reference that is dependent on a Parent reference
To Begin Class:
Enclave Etiquette:

Before posting, please read the general guidelines for Enclave Etiquette.


Enroll:

Contact the current instructor and ask to be added to the Official Roster


Go to Class:

Head to the Worldbuilding 101 classroom and begin with Lesson #1
Have questions? Post them in the General Questions Thread!

Make sure you read "About the Worldbuilding Course" so you know what's expected of you!