So I've been trying to unwrap the UVs to create the texture map for the sword I've been working on in 3ds Max. I created the seams, pelt mapped and relaxed everything and it the unwrapping seems to be looking perfectly fine. Then I attempt to scale all of the objects by selecting them all and using the "Rescale Elements" tool, and one of three things happens.
1. The objects rescale incorrectly. Some parts that are supposed to be tiny end up massive, and other parts that are supposed to be huge end up minuscule.
2. Certain objects disappear from view entirely and I can no longer find them.
3. Both of the above combine into one massive spaz attack seemingly intended to drive me insane. (Screenshot of this provided).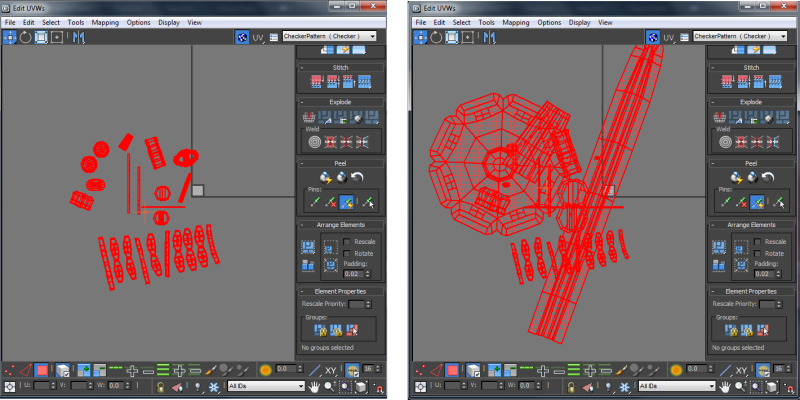 Yeah, see that long thing towards the right is the blade, which seems to rescale to a normal size. But that circular thing on the left, is a flower design that's supposed to be not even a tenth the size of the crossguard... and then the crossguard disappears entirely!
This has been driving me crazy, as I haven't been able to get past this bump all day and I have absolutely no clue as to what the problem could be! Cookies to anyone who can be of even the smallest help!
P.S. The scale tool in the UVW Unwrap mode is also working incorrectly (it doesn't scale the object uniformly even though it should).
Edited by BaconFlips, 07 July 2012 - 06:55 AM.