Texturing Tutorial: Tips and Tricks (Photoshop)
Blend If
by: Hanaisse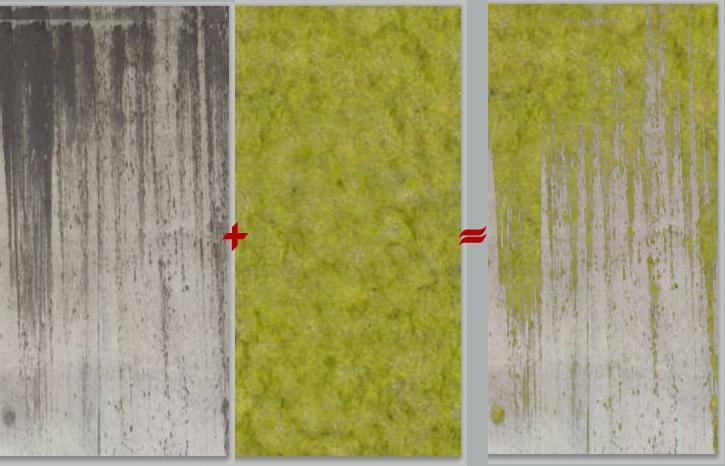 This workshop is going to describe what the
Blend If
feature is and how to use the feature in Photoshop to enhance textures.
Requirements:
Photoshop
Basic working knowledge of Photoshop
Basics:
The Blend If feature uses layers to blend by luminosity. You can blend underlying layers or overlying layers to change textures into unique creations.
Luminosity is the attribute of an object or colour enabling the extent to which an object emits light (or brightness) to be observed.
Blend If uses this light attribute to determine how light and dark layers interact - how transparent a layer can be or how opaque certain portions of a layer can be. In effect, it's a faster way to create colour masking.
Example:
Explaining it in words is difficult, so it's time to demonstrate. Here is an existing cobblestone landscape texture from Oblivion (cobblestone01.dds).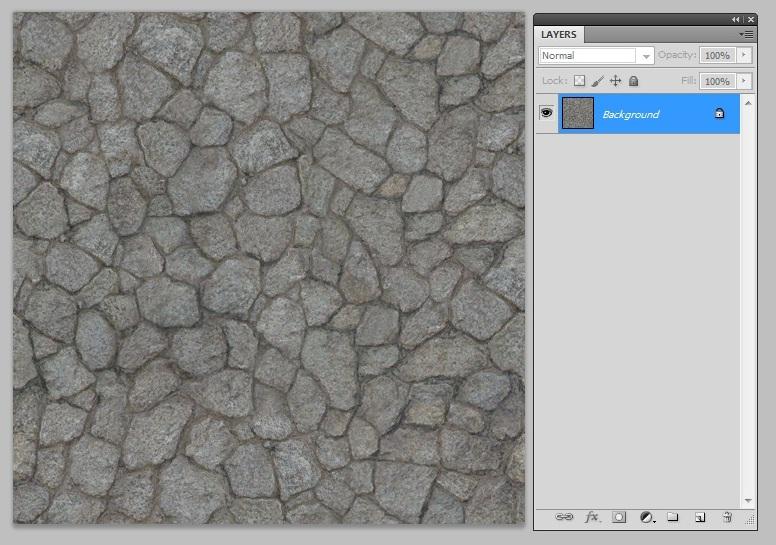 What if we wanted to get rid of the dirt in between the stones and change it to something entirely different? We could spend a tedious amount of time trying to use the magic wand tool to isolate it, or try to paint over it with a brush or paint bucket. And that would lead to very blocky results.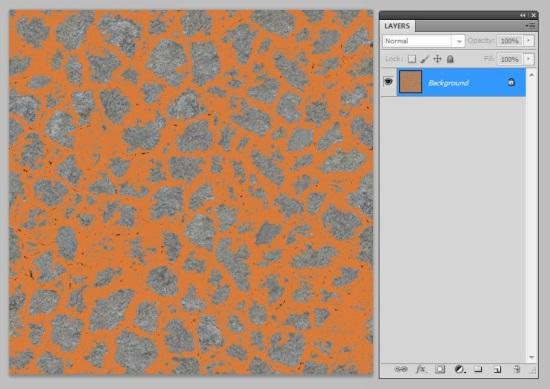 Instead, we'll use Blend If to achieve higher quality results. Create a new layer and fill it with any colour. I've used orange to demonstrate easier.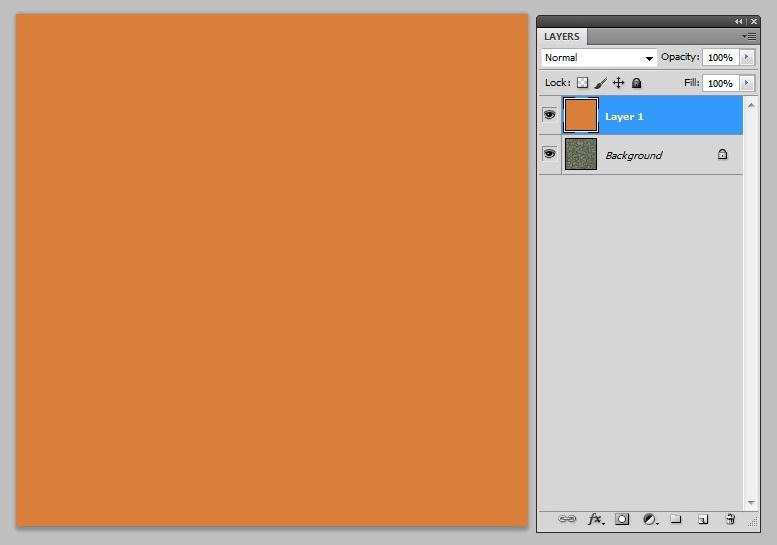 Double click on Layer 1 to bring up the Layer Styles box. At the bottom of the main box is the Blend If option we're looking for.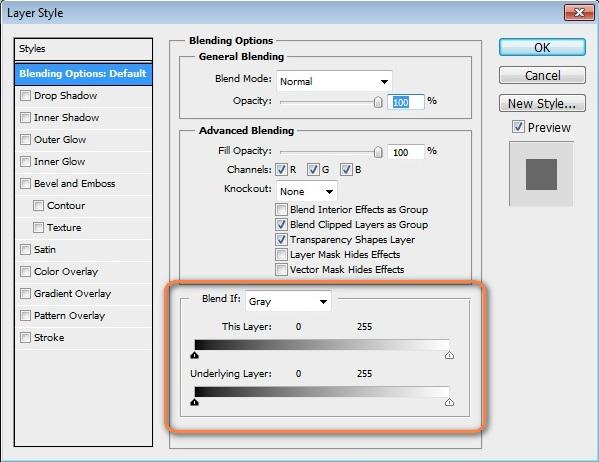 Using the sliders we can set where the currently selected layer will show through. By tweaking the sliders we can make this layer transparent based on the luminosity (how light the layer is) of the layers below it.
Move the black slider (on the left) of the bottom line called Underlying Layer to the right and see what happens.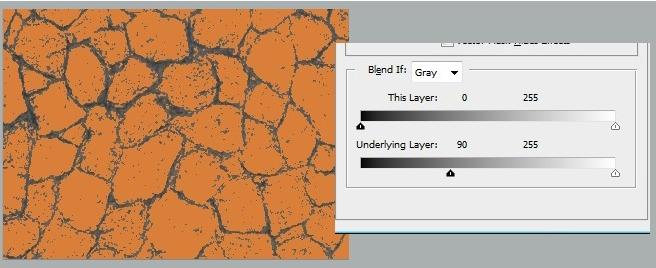 Based on the luminosity, the orange layer doesn't show through the darker areas of the underlying image until it reaches a "luminosity level" of 90.
Now move the black slider back to it's default and slide the white slider to the left. In this case, the orange layer doesn't show through the lighter areas of the image until it reaches a level of 90.

By playing with the handles we can choose to cover and blend only the light or only the dark areas of the underlying image.
So far, the blending is very abrupt and still a bit blocky, but we can smooth it out nicer. Holding down the ALT key will split a slider and allow a "fade in", "fade out" transition of blending.
Remember our luminosity level of 90? If we split the white slider in two and move each to either side of 90 we can smooth out our blending area. I've found a + or - of 20 on each side to work very well. Play with it until you like it.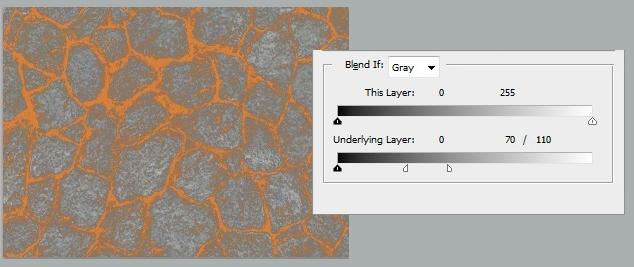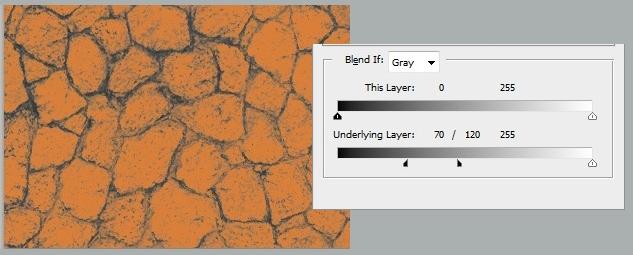 Another Example:
Now that we understand how Blend If works, we'll try a real example of blending texture on texture, not just colour. We'll take a metal texture, that appears to have some water stains leaked on it, and we'll change those stains to rust. Make sure both textures are the same size.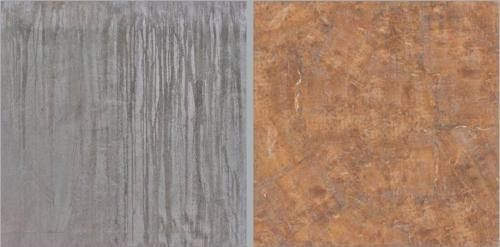 Adjusting the black slider will leave the metal transparent and the lighter stains covered with rust.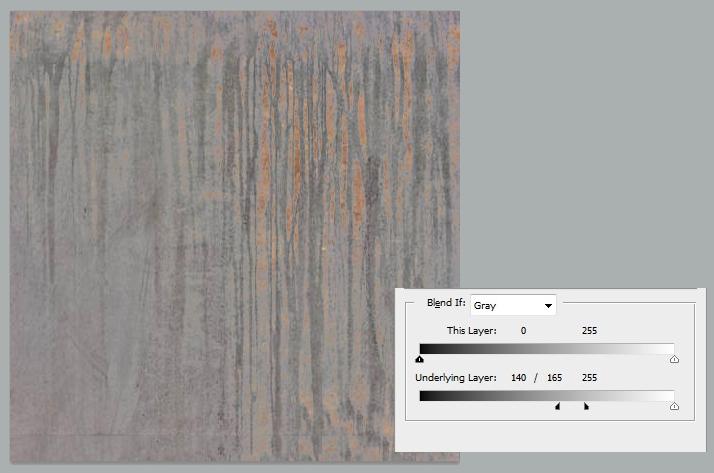 Adjusting the white slider will leave the metal transparent and the darker stains covered with rust.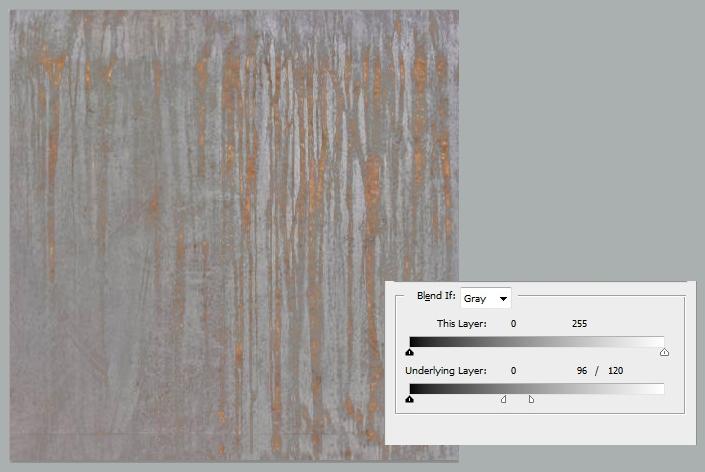 You can also use both sliders for a greater affect.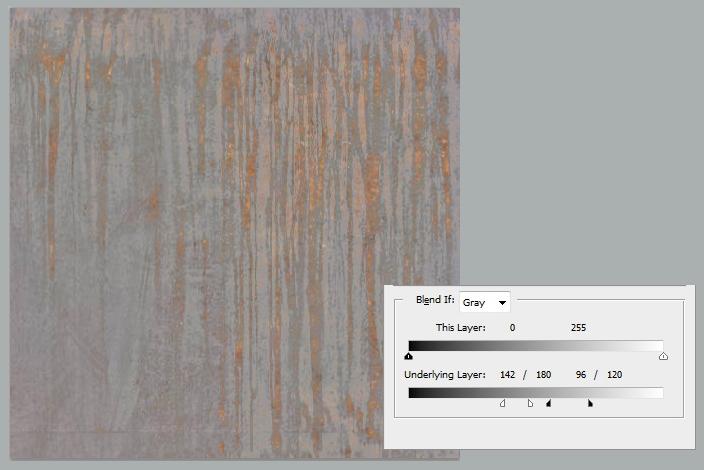 Another Example:
How about adding some moss in between a clean brick texture.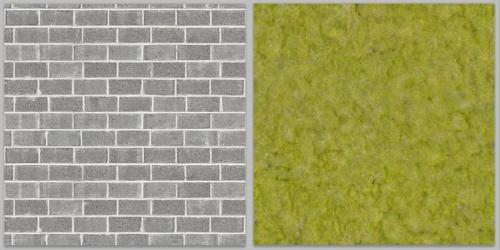 Adjust the black slider so the lighter grout is covered.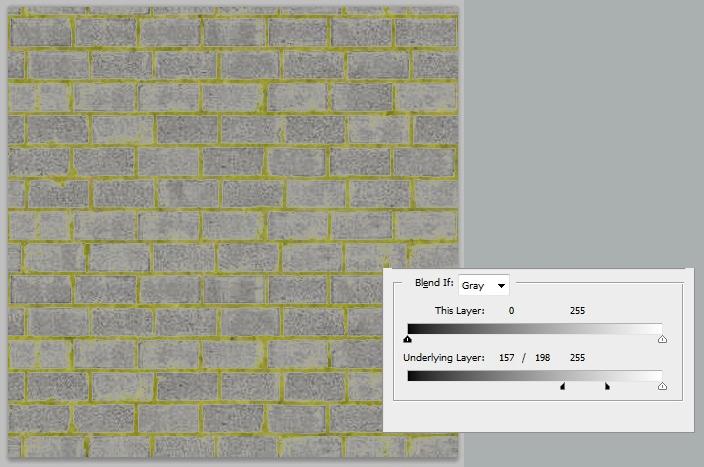 Adjust the white slider to add some moss blending on the darker spots of the bricks.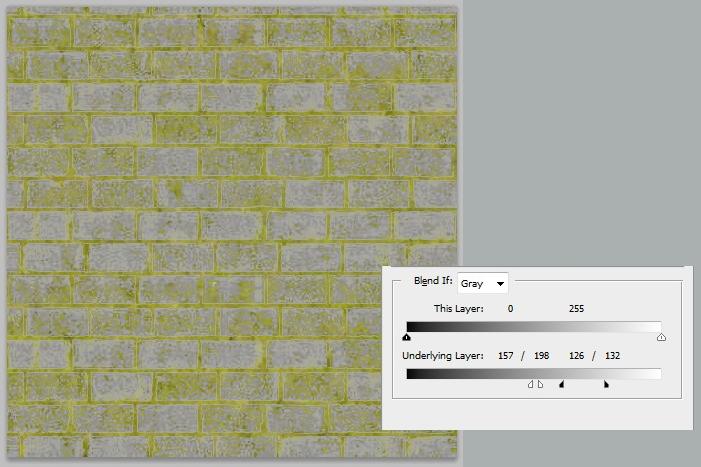 Another trick we can do is, because the layers are still separate, we can adjust using any other blend / adjustment options we like. I darkened the moss to -25 brightness for a more realistic look.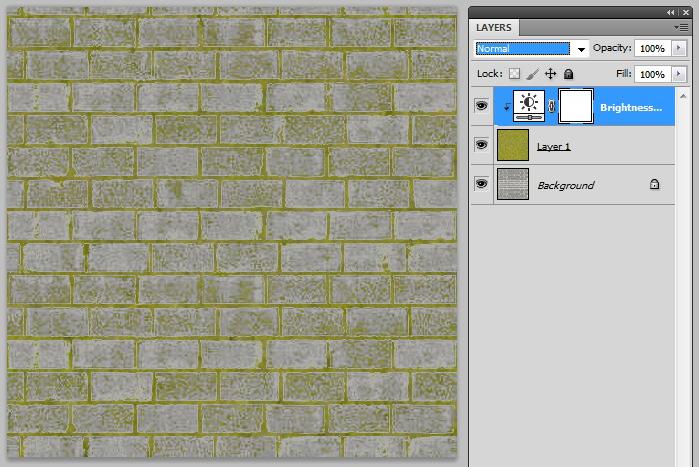 Final:
<statement>
Try other things. You may be surprised by results.
Concrete wall plus moss.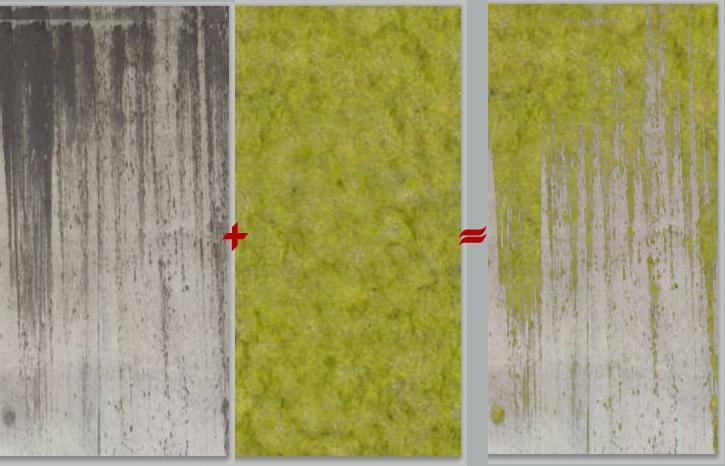 Concrete wall plus moss, plus Colour Overlay layer style.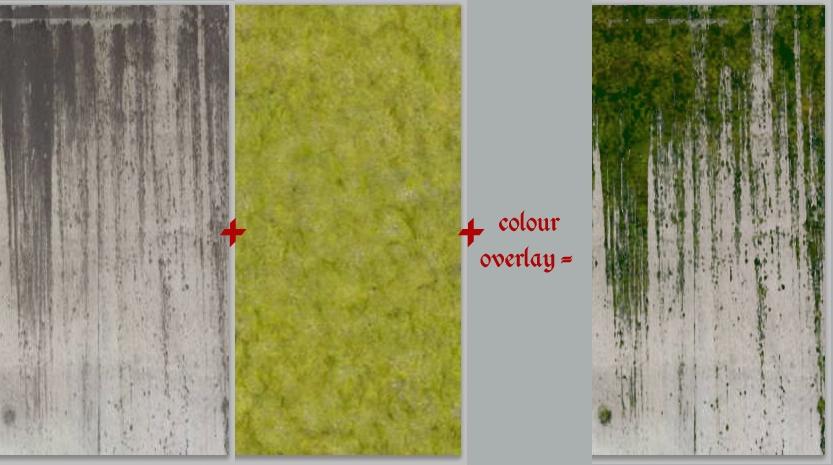 Faded wood plus dark brown.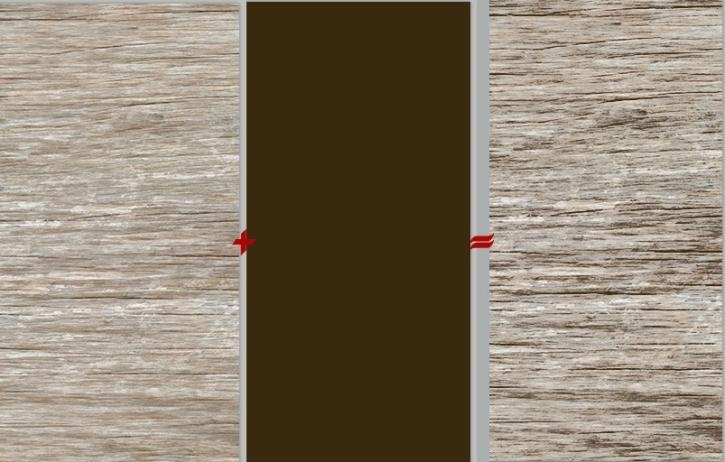 Complex wallpaper sample: Colour Overlay layer vs. Blend If layering using same red colour hex #.

Colour Overlay does not allow the white portions to be coloured. Blend if does, allowing much more flexibility in texture design.
Also try experimenting with the "This Layer" line for opposite effects.